Back to School Night/ Noche de Regreso a la Escuela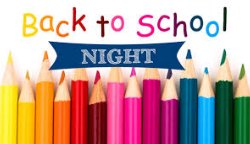 What

Back to School Night/ Noche de Regreso a la Escuela

When

9/30/2020, 6:00 PM

–

7:30 PM

Where

Lawndale High School
Join the Cardinal Family in welcoming our students back to school, meet teachers and staff, and hear a message from the Principal.
Únase a la Familia Cardinal para dar la bienvenida a nuestros estudiantes de regreso a la escuela, conozca a los maestros y al personal, y escuche un mensaje del Directora.

~~~~~~~~~~~~~~~~~~~~~~~~~~~~~~~~~~~~~~~~~~~~~~~~~~~~~~~
Cardinal Families,
Lawndale High School will hold our annual Back To School Night in virtual format tonight, Wednesday, September 30th, from 6:00 to 7:30pm. To prepare you for meeting the teachers and staff at our virtual event, we have prepared a short presentation including welcome videos from each staff member which can be found here: Lawndale Back to School Night Presentation. We encourage you to take a few minutes today to view the videos from your child's teachers, counselor, and administrator.

Additionally, teachers and staff will be available this evening virtually via Google Meet Links to answer your questions, say hello, and provide more information about their classes and services.
We are looking forward to meeting with you virtually tonight at 6:00pm.
Sincerely,
Lawndale Administration:
Dr. Rodas, Ms. Gogate, Dr. Hill, & Ms. Mejia
~~~~~~~~~~~~~~~~~~~~~~~~~~~~~~~~~~~~~~~~~~~~~~~
Familias Cardenales,
La preparatoria Lawndale celebrará nuestra Noche de regreso a la escuela en formato virtual esta noche, Miércoles 30 de septiembre, de 6:00 a 7:30 pm . Para prepararte para conocer a los maestros y al personal en nuestro evento virtual, hemos preparado una breve presentación que incluye videos de bienvenida de cada miembro del personal que se pueden encontrar aquí: Presentación de la noche de regreso a clases en Lawndale . Lo alentamos a que se tome unos minutos hoy para ver los videos de los maestros, consejero y administrador de su hijo.
Además, los maestros y el personal estarán disponibles esta noche virtualmente a través de Google Meet Links para responder sus preguntas, saludar y brindar más información sobre sus clases y servicios.
Esperamos reunirnos con usted virtualmente esta noche a las 6:00 pm.
Sinceramente,
Administración de Lawndale:
Dr. Rodas, Sra. Gogate, Dr. Hill y Sra. Mejía
Copy to Google Calendar
•
Download iCal Event